Chiropractor James Taylor D.C.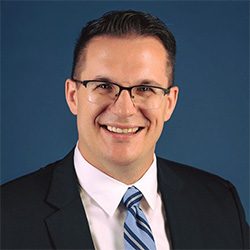 Dr. Taylor grew up in St. Michael, MN and graduated from St. Michael-Albertville high school. His interest in chiropractic began in high school while playing rugby. With the constant battering a rugby player's body takes, a person needs far more than some aspirin or ibuprofen to keep themselves in playing shape. Chiropractic allowed Dr. Taylor (at that time, simply 'Jim') to stay on the pitch and continue to play the sport he loved and his passion for chiropractic has grown ever since. 
Dr. Taylor received his Bachelor's of Science in Biology with minors in Kinesiology and Chemistry from the University of Wisconsin – Eau Claire after which he attended Northwestern Health Sciences University to obtain his Doctorate of Chiropractic.
Dr. Taylor continues to remain active in the community and aims to spread the chiropractic message. Continuing with his love of rugby, Dr. Taylor gives back to his favorite sport and holds his post as the team chiropractor for the rugby clubs of TCU, Fort Worth, the HEB Hurricanes, and the Euless Texans who, in 2016, won 2nd place in the nation for Men's Division III. He is also a member of the Northeast Tarrant Chamber of Commerce and an affiliate chiropractor for a select number of local CrossFit and MMA gyms in the area making sure any and all local athletes, no matter their sport or level of experience, can train harder, recover faster and always preform at their best.
---
Education
St. Michael-Albertville High School (Minnesota)
University of Wisconsin – Eau Claire
Northwestern Health Sciences Univeristy
Harvard Medical School: Lifestyle Medicine – Nutrition and the
Metabolic Syndrome
Harvard Medical School: Lifestyle Medicine – Acute Low Back Pain
Harvard Medical School: Lifestyle Medicine – Prescribing Exercise
Harvard Medical School: Lifestyle Medicine – Osteoporosis
Harvard Medical School: Rheumatology – Gout and Calcium Deposition Disease
Harvard Medical School: Pediatric Asthma Treatment
Harvard Medical School: Pain Management for the Outpatient
Harvard Medical School: Neurology and Stroke Management
---
Professional Accomplishments
B.S.: University of Wisconsin – Eau Claire
D.C.: Northwestern Health Sciences University
Doctor of Chiropractic, Licensure in the State of Texas (# 12512)
Board Certified in Radiology by the National Board of Chiropractic Examiners
Board Certified in Physiotherapy by the National Board of Chiropractic Examiners
Board Certified in the Practice and Philosophy of Chiropractic by the National Board of Chiropractic Examiners
Certified Level 1 Practitioner of Graston Technique for rehabilitation of soft tissue injury by Northwestern Health Sciences University
Certified in Nutrition and Functional Medicine by Nutrition Dynamics
Certified in Sports Nutrition by Nutrition Dynamics
Certified in the application and use of myofascial taping techniques by RockTape
---
Professional Associations
American Chiropractic Association
Texas Chiropractic Association
Chiropractic Society of Texas
Team Chiropractor: Euless Texans Rugby (2016 DIII National Runner-up)
Team Chiropractor: Ft. Wroth Rugby Club
Team Chiropractor: TCU Men's Rugby Club
Team Chiropractor: HEB Hurricanes Rugby Club
Affiliate Chiropractor: Strength & Honor School of Fitness
Affiliate Chiropractor: Elite Sports Training – CrossFit EST
Affiliate Chiropractor: Blue Wave Fitness
Affiliate Chiropractor: All Powers Fitness & Fighting
OFFICE HOURS
---
Monday
8:30am - 12:00pm
3:00pm - 6:00pm
---
Tuesday
8:30am - 12:00pm
3:00pm - 6:00pm
---
Wednesday
3:00pm - 6:00pm
---
Thursday
8:30am - 12:00pm
3:00pm - 6:00pm
---
Friday
8:30am - 12:00pm
---
Saturday
Closed
6248 Davis Boulevard #300
North Richland Hills, TX 76180
P: (817) 770-4773
F: (817) 770-4795